The woman behind the Mahatma
By Shail Raghuvanshi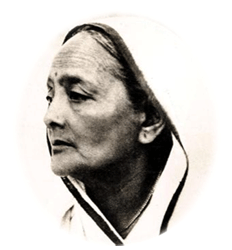 Mahatma Gandhi, the Father of the Nation needs no introduction. That he worked hard to transform himself from Mohandas Karamchand Gandhi to the Mahatma, everyone knows. That he fought hard to help India and its citizens to get their deserved freedom is also well known. Though, how much of it is appreciated today I am not very sure. What few know or even bother to remember is the person behind the Mahatma's success. Yes, indeed. I am referring to Kasturba Gandhi, the simple, unassuming wife of the Mahatma.
Born Kastur Kapadia in Porbabdar, she became Kastur Ba after marrying Gandhiji. She bore him four sons - Harilal, Manilal, Ramdas, and Devdas. History offers proof of the sacrifices that this woman made to enable the Mahatma to work towards procuring freedom for India. Adjusting to a new way of life, giving up the little pleasures that every married woman desires, letting go of dreams that any girl has of wedded life - this and a lot more did Kasturba do, just to let her husband lay a foundation for the task that lay ahead of him. Kasturba let the revolution that ushered in independence usurp her dreams and desires. Not an easy thing to do. Understanding the power of sacrifice for a noble cause is something that requires a lot of self-introspection which most people do not have. But do we remember Kasturba for all that she did?
In many ways, Kasturba's relationship with Gandhiji was like any other wife in most Indian homes. Most of the time, the man-woman equation is unequal, particularly so for Kasturba and Gandhiji as they were married in an age when equality of rights in an Indian marriage was something unheard of. Arun Gandhi, the grandson of Kasturba and Mahatma Gandhi, says in his book, Kasturba: A Life, "The story of my grandmother's life is simply this: while Mohandas experimented with truth, Kasturba experienced it."
Of course, this certainly does not belittle all that Gandhiji did for us. Even today, I credit my freedom to him and will always do. I am only trying to see another aspect into the Gandhiji saga. Kasturba is said to have always been caring and ever helpful. More than anything else, she was always patient with her husband. Having been forced to do without a lot of amenities, she did not permit her husband's power with the masses to go to her head. Again, something very difficult to do, as pride in a husband's power and fame is very normal for any woman. Poverty and celibacy were ways of life she willed herself to accept - tough decisions to make. So many times, in our hurry to acquire and maintain a career, so many times in our obsession to live the lives of liberated women, we tend to disregard qualities that define a woman. Yes! They are love and sacrifice. I know! I know! You might rightfully ask me as to why sacrifices need to be made by women alone. Men can make them too! True! But, we cannot generalize in today's world. Not all men are selfish. So many men make sacrifices we never get to hear about. Many men today are volunteering to care and help around in the house. But it is a fact that, even today, women are expected to be loving, to run the household, work outside, take care of the needs of their families and still retain their 'femininity.' It is a man's world still.
It is an unfair society, agreed, but becoming bitter about it will definitely get us nowhere. Nor will getting lost in the tug-of-war of egos get us anywhere! Again, you might question the oft-repeated statement, "Behind every successful man there is a woman..."
"Why be the woman behind the successful man?" you may ask.
"Why not be the successful woman before the man instead?"
It certainly is a question for our times, considering the current environment where women contribute significantly in almost every field that was earlier considered to be a male domain. But what most women tend to conveniently forget now-a-days is that success need not be measured by a career and a 'high funda' lifestyle. No success is victory if it forces you to compromise on all those values you hold dear, like relationships and the joys of a family. At the far end of your life, when you have become old and need to depend on others for physical and emotional requirements, will our families and friends be there for us? Were WE there when they needed us the most? Did we take time out (from our busy and successful lives) to share their joys and woes? Or did we say, "Not now, later. Can't you see I am busy?" Sadly, we were busy getting further and further away from the love that we need the most.
There are many women today who maintain a wonderful balance between work/job and home. They make time for themselves and for their loved ones. Life for them is not a race to prove their identities. Instead, they journey through life experiencing every moment for what it is and not for what it should be.
Women like Kasturba Gandhi often go unnoticed because of their beautiful humility. Arun Gandhi says, "Kasturba Gandhi spent virtually her entire life with the daily all encompassing reality of Mahatma Gandhi's search for Truth." Women like these are the ones who make a house a home. Housewives by choice or by circumstance, they live their lives to the fullest, forsaking those little desires they once thought important. They are successful women in their own right, just as much as those working women who believe in themselves and in the right to be happy without trampling on the feelings of their loved ones.
Kasturba was died on February 22, 1944. As we remember Mahatma Gandhi, the successful man, let us salute Kasturba - the successful woman behind the successful man!
Courtesy: Adapted from
http://musenmotivation.wordpress.com/2010/10/01/the-woman-behind-the-mahatma/
---