Gandhi, Parchure and Stigma of leprosy
By Pragji Dosa
Gandhiji's campaign for leprosy saved innumerable lives of lepers and improved their condition in India.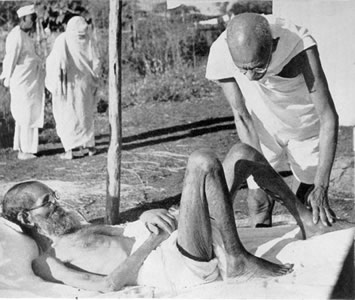 During his Satyagraha campaign in South Africa, Gandhiji was addressing a gathering at Natal on the occasion of the founding of the Indian Congress. He noticed a few people standing at a distance under a tree listening to him intently. In spite of his beckoning them to come forward and join the crowd, they did not come. So Gandhi decided to go to them. As he started walking towards them, one of them cried out, "Gandhibhai, do not come near us, we are lepers." Even after hearing this, Gandhi went to meet them. Some of them had lost their fingers, some their toes, some had no hair left of their heads. Gandhi asked them about the treatment they were receiving for their ailments. Their answer shocked Gandhi. They said, "No doctor was willing to treat us, we treat ourselves with the juice of bitter neem." When asked if that was helping, they replied in the negative and said they were dying a slow death.
At that instant Gandhi decided that he had to do something for these people. He asked them to come home, but none of them had the guts to do so during the day, so after dark, some of them gathered enough courage to go and knock on his door. Gandhi was about to retire to bed, but he called them in, cleaned their wounds, gave them food to eat, and heard their life stories and the how they survived in the open living in the ruins some distance from the village. They had no access to water. They used to wash themselves when the rain gods obliged, otherwise the rest of the time they lived in their tattered dirty clothes with no water available for washing their bodies or their clothes. They would eat leftovers from functions held by the rich in the village. After narrating their story, they asked for permission to leave, but Gandhi would not let them go. He said he would keep them with him and treat their affliction. Accordingly he treated the others, advised them to keep themselves clean, and gave them medicines.
Gandhi returned to India in 1932 and started his Satyagraha campaign. He and other leaders were arrested and locked up in Yerwada Jail in Pune. While in jail, Gandhi inquired with the jail Superintendent Bhandari about Parchure Shastri who was also arrested along with the others. He requested Bhandari to find out where Shastriji had been locked up? Gandhi told Bhandari, "If he can stay with me then we can have discussions and keep each other company." Bhandari replied, "Parchure has leprosy and has been kept in another section of the jail." Gandhiji was utterly shocked! Parchure Shastri was a well-read learned man and very knowledgeable about the Vedas. He wrote a letter to Parchure telling him not to lose heart and requested him to keep in touch with him through letters and to let him know if he needed anything in jail. Shastriji replied, "if possible could you please arrange for cotton wool so I can clean my wounds and some books (Yogavashistha and Yagyavakalp) to read."
When Gandhiji received this letter, Mahadev Desai happened to be visiting Gandhi in jail. Gandhiji instructed Mahadev to arrange for the things Shastriji had requested along with a message that "our bodies fall ill, but you are not a body but a spirit, a consciousness, (chaitanya), so awaken your consciousness!" This letter acted like life-restoring medicine (sanjeevani) for Parchure and he was greatly inspired by Gandhiji's encouragement.
Gandhiji at that time had gone on a fast in jail and when his life was hanging in the balance the government compromised. The question arose about who was going to give Gandhi his first sip of juice to break his fast. Gandhi Bapu wanted Parchure to do that who was in jail at that time. The government agreed and it was arranged to bring Parchure to Gandhi so he could break his fast. The Jail Superintendent, Bhandari, watching this scene, could not stop his tears.
After being released from prison, Shashtri went to Haridwar. His wife made Shastri promise that when she leaves for her heavenly abode, he should go to Gandhiji's ashram. As she had anticipated, Shastri's wife left the world very soon. Remembering the vow he had taken in front of his wife, Parchure Shastri went to Gandhiji's Sevagram Ashram. On meeting Gandhi, he told him about the promise he had made to his wife and accordingly here he was in Gandhiji's ashram.
Gandhi welcomed him and asked one of the volunteers from South India, Velyadhun, to bring a dhoti and a vest (bandi) for Shashtriji. Gandhi was happy with the progress Shastri was making with the medicine, DDS, prescribed by Dr. Jivraj Mehta. He then went to his prayer meeting. There he announced to his volunteers and ashram inmates, "A learned man in Vedas and a great Pandit, Parchure Shastri, is among us. He is suffering from leprosy. Will you all support him and allow him to live in this ashram?" There was pin drop silence. Gandhiji understood the reluctance on the part of his ashramites. He added, "Give you consent only if your conscience agrees to this. But you can take my word, that this ailment is not contagious."
Gandhiji's word was sacrosanct. Once he said something, people believed him. So everyone agreed to support Shastri. He was called and presented to the ashram inmates. With folded hands he thanked everyone and said a Vedic prayer asking God to bless everyone. Velyadhun was given the responsibility of looking after Shastri and the latter would narrate Vedas and tell the ashram inmates stories from ancient texts. Shashtri lived in the ashram until 1942 when Gandhi called on the nation to start satyagraha on Quit India. At that time several persons were arrested and Shastriji went away to a leprosy home at Duttapur. After staying there for three years, he realized that his end was near so he wrote to Gandhi.
"Dear Bapu, my end is near, and you recollect at a time when I was in Yerwada jail depressed and prepared to end my life, you saved me and gave me a new life. But now I think my life is coming to an end, and I only have one last wish, to see you before I die." Gandhiji along with Mahadev Desai spoke to the officials of the leprosy home and went to visit Shashtriji whose happiness knew no end on seeing Gandhi personally come to see him. Gandhi realizing that Shastri's end was near, told him, "Death visits all of us one day, sooner or later. You are a learned man, so I do not have to advise you on anything, but I would like to say that where you are going is your permanent abode, where there is no light as we know it, no darkness, nor fire, nor moonshine, there is only divine light there." Just a few days after Gandhi's visit, the soul of Shastriji flew away to his permanent resting place.
Translated and reprinted from: Mumbai Samachar, 1988, by Shantilal Gadhia.
Courtesy: Shashwat Gandhi, November 2015
---