Chapter-2: Preparation for England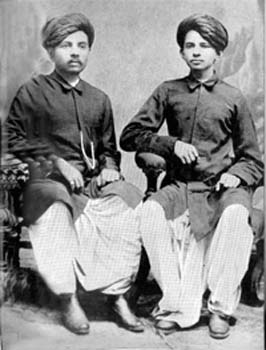 After passing his high school examination, Mohandas joined the Samaldas College at Bhavnagar. As he did not fined the classes interesting, he returned home after the first term.
There a big surprise awaiting him. His eldest brother and family friend suggested that Mohandas should go to England to study and become a barrister. Mohandas was thrilled. Here was a chance for him to see the world.
But his mother did not like the idea of his going to England. She did not want her youngest son to stay away from her. There was also the problem of money. Moreover, she feared that Mohandas would lose his caste if he crossed the ocean. The family friend assured her that there would be no much difficulty and everything would be all right. But his mother was still opposed to the idea.
'I know many reasons why it is dangerous for a Hindu to leave India,' she explained to him. 'You will have to eat meat. They drink wine there and you will be tempted to drink wine. Then you might fall into bad company, and there are many other temptations which may spoil you.'
'No, mother,' said Mohandas. 'I am no longer a child. I can look after myself.'
He pleaded with her to allow him to go, and he took a vow not to eat meat, not to drink, and not to touch a woman. Putlibai at last gave in and allowed him to go to England. When he left Rajkot for Bombay, because he had to leave behind his mother, his wife, and his son who was only a few months old.
On September 4, 1888, Mohandas left Bombay for England. Dressed in western style, he stood on the deck as the ship slowly steamed out of the harbour. He was sad, but he was also excited.
Mohandas never forget his first morning on board. He wore a black suit, a white shirt, a stiff collar pinched him. It was quite a job to knot his tie property. The tight, short coat also made him ill at ease. He thought that Indian dress was much more comfortable. Yet a glance in the mirror made him feel proud of himself. He thought he looked very impressive.
Mohandas was shy. He rarely left his cabin. He even ate his food there alone. He was not sure of all those unknown dishes served on the shop. He thought they might contain meat. He did not wish to break his vow to his mother, so he lived mainly on the sweets he had taken with him.
---