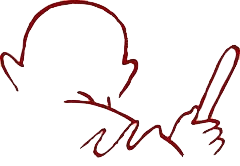 ABOUT GANDHI
---
MYTH & FAQ
---
ARTICLES
Gandhi And The Black People of South Africa By James d Hunt
Resistance To The Soul: Gandhi And His Critics - By Michael F. Plotkin
---
Further Reading
(Complete Book available online)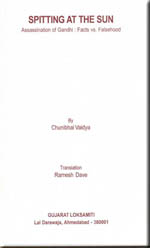 SPITTING AT THE SUN
(Assassination of Gandhi :
Facts vs. Falsehood)
About This Book
---
Written by :Chunibhai Vaidya
Translated by :Ramesh Dave
Printed by : Umiya Offset,
Tavdipura,
Ahmedabad - 380 014,
India.
First Published : November 1998
Printed and Published by :
Gujarat Loksamiti,
Loksamiti Compound
Lal Darwaja,
Ahmedabad - 380 001

---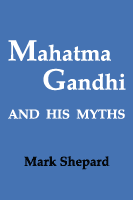 About This Book
---
Written by : Mark Shepard
I.S.B.N : 0-938497-19-7
Copyright : © 1990, 1996, 2001, 2002 Mark Shepard
---
Other Useful Links
---
We have Sufficient for Everybody's Needs, Not For Greed - Exact Gandhiji's Quotation
I suggest that we are thieves in a way. If I take anything that I do not need for my own immediate use and keep it I thieve it from somebody else. I venture to suggest that it is the fundamental law of Nature, without exception, that Nature produces enough for our wants from day to day, and if only everybody took enough for himself and nothing more, there would be no pauperism in this world, there would be no more dying of starvation in this world. But so long as we have got this inequality, so long we are thieving.
M. K. Gandhi - Book - Trusteeship
Navajivan Trust Publication-Ahmedabad, 1960 ; Page 3.
---