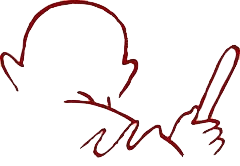 ABOUT GANDHI
---
MYTH & FAQ
---
ARTICLES
Gandhi And The Black People of South Africa By James d Hunt
Resistance To The Soul: Gandhi And His Critics - By Michael F. Plotkin
---
Further Reading
(Complete Book available online)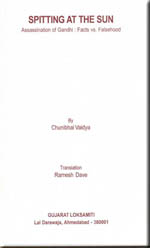 SPITTING AT THE SUN
(Assassination of Gandhi :
Facts vs. Falsehood)
About This Book
---
Written by :Chunibhai Vaidya
Translated by :Ramesh Dave
Printed by : Umiya Offset,
Tavdipura,
Ahmedabad - 380 014,
India.
First Published : November 1998
Printed and Published by :
Gujarat Loksamiti,
Loksamiti Compound
Lal Darwaja,
Ahmedabad - 380 001

---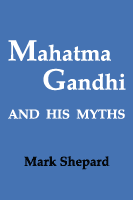 About This Book
---
Written by : Mark Shepard
I.S.B.N : 0-938497-19-7
Copyright : © 1990, 1996, 2001, 2002 Mark Shepard
---
Other Useful Links
---
Why do you advocate vegetarianism ?
I not only practice vegetarianism, but also a strict control of one's palate. A man who wants to control his animal passions easily does so if he controls his palate. Unless we are prepared to rid ourselves of stimulating, heating, and exciting condiments, we shall certainly, not able to control the over-abundant, unnecessary, and exciting stimulation of the animal passions. If we do not do that, we are likely to abuse the sacred trust of our bodies that has been given to us.
I have philosophical reasons to advocate vegetarianism. I believe that the animals have spirits and souls also.
Source: http://www.kamat.com/mmgandhi/askgandhi.htm
---