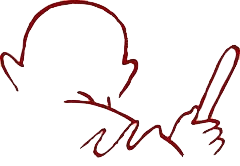 ABOUT GANDHI
---
MYTH & FAQ
---
ARTICLES
Gandhi And The Black People of South Africa By James d Hunt
Resistance To The Soul: Gandhi And His Critics - By Michael F. Plotkin
---
Further Reading
(Complete Book available online)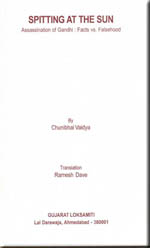 SPITTING AT THE SUN
(Assassination of Gandhi :
Facts vs. Falsehood)
About This Book
---
Written by :Chunibhai Vaidya
Translated by :Ramesh Dave
Printed by : Umiya Offset,
Tavdipura,
Ahmedabad - 380 014,
India.
First Published : November 1998
Printed and Published by :
Gujarat Loksamiti,
Loksamiti Compound
Lal Darwaja,
Ahmedabad - 380 001

---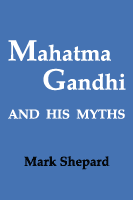 About This Book
---
Written by : Mark Shepard
I.S.B.N : 0-938497-19-7
Copyright : © 1990, 1996, 2001, 2002 Mark Shepard
---
Other Useful Links
---
In Spite of the Pakistani aggression in Kashmir, Gandhiji fasted to compel the Government of India to release an amount of Rs. 55 crores due to Pakistan.
The matter regarding release of Rs. 55 crores to Pakistan towards the second installment of arrears to be paid to it under the terms of division of assets and liabilities requires to be understood in the context of the events that took place in the aftermath of partition. Of the 75 crore to be paid the first installment of Rs. 20 crore was already released. Invasion of Kashmir by self-styled liberators with the covert support of the Pakistani Army took place before the second installment was paid. Government of India decided to withhold it. Lord Mountbatten was of the opinion that it amounted to a violation of the mutually agreed conditions and he brought it to the notice of Gandhiji. To Gandhiji's ethical sense the policy of tit for tat was repugnant and he readily agreed with the Viceroy's point of view. However, linking his stand in this matter with his fast he undertook, as you will find in the following lines, is an intentional mix-up and distortion of facts of contemporary history. The fast was undertaken with a view to restoring communal amity in Delhi. Gandhiji arrived from Calcutta in September 1947 to go to Punjab to restore peace there. On being briefed by Sardar Patel about the explosive situation in Delhi itself he changed his plans and decided to continue his stay in Delhi to restore peace with the firm determination to "Do or Die."
---
Influx of Hindus from Pakistan who were uprooted and who had suffered killings of relatives, abduction and rape of women and looting of their belongings had created an explosive situation. Local Hindus who were outraged by the treatment meted out to their Hindu brethren and the anger of local Muslims against reports of similar outrages on their coreligionists in India made Delhi a veritable witches' cauldron. This resulted in killings, molestation, torching of houses and properties. This caused deep anguish to Gandhiji. What added poignancy to this was the realization that it happened in India itself just after an unique incident in the history of mankind doing away of the shackles of a colonial regime by nonviolent means. It was in this background in his mind that he undertook fast unto death to restore communal amity and sanity in Delhi. And, as if to allow the critics of Mahatma Gandhi a chance to mix-up and maneuver, the decision of the government of India to release Rs. 55 crore to Pakistan came during this period of his fast.
---
The following facts dissolve this much touted thesis that Gandhiji had fasted to bring moral pressure on government of India to relent.:
Dr. Sushila Nair, as soon as she heard Gandhiji proclaim his decision, rushed to her brother Pyarelal and informed him in a huff that Gandhiji had decided to undertake fast till the madness in Delhi ceased. Even in those moments of inadvertence the mention of 55 crore of rupees was not made which clearly proves that it was not intended by Gandhiji.
Gandhiji's own announcement about his resolve on 12th January in the evening prayer meeting did not contain any reference to it. Had it been a condition, he would have certainly mentioned it as that.
Similarly, there was no reference to it in his discourse on 13th January.
Gandhiji's reply on the 15th January, to a specific question regarding the purpose of his fast did not mention it.
The press release Of the government of India did not have any mention thereof.
The list of assurances given by the committee headed by Dr. Rajendra Prasad to persuade Gandhiji to give up his fast did not include it.
We hope these facts should put at rest the 55 crore concoction at rest.
---